Jun 6
God Pity The One Dream Man or Woman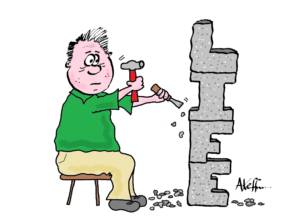 In 1901 Robert H. Goddard began devoting his life to rocket science. This was two years before the Wright Brothers' flight.  Throughout his later career until his death in 1945 he was derided for maintaining that rocketry would work in both an atmosphere and in a vacuum. In noting the importance of perseverance, he wrote, "When the old dreams die, new ones come to take their place. God pity the one-dream man."  Dr. Goddard is now viewed as pioneer of the space age.
At the risk of going out on thin ice yet again, I think we have also come to the point where we will have to pity the one label man or woman. Accustomed as we are to the Old Normal, we have grown to prefer the one label/quick answer response to introductory questions that readily classify people:
What do you do?
Where do you live?
What church do you go to?
What's your handicap?
How many kids do you have?
Where did you go to school?
Who do you work for?
Perfectly valid questions, all. Yet in today's New Normal with rampant discontinuous change, we're unlikely to fit long term within a single label. Here are some examples of why.
Doris, 45, has an undergraduate degree in Accounting, an MBA, and thought that these would determine the entire course of her career.   She thought she was done with school and was an accountant for life. Now she is discovering that she has an increasing interest in Quality Control and is growing tired of accounting. She looked at doing a new MA in Quality Control. Then, to her horror, she realized that most of what she learned in undergrad and in her MA has become outdated.  An additional MA may not be the answer given the trend towards less expensive, updated, mandatory certifications in order to stay employed. She no longer fits under one label and the change in education required is discontinuous.
Phil, 52, works for a high tech company. His job didn't exist two years ago. It probably won't exist three years from now. He doesn't have a meaningful job title that can be explained in less than 10 minutes to the – by then- glassy-eyed uninitiated.  He often says who he works for and hopes that the inquirer will stop there.  The change in configuration of work at his company – and at his company's client companies – is increasingly discontinuous.
Betty, 66, works full time at a restaurant. She is also the head of a household that includes her mother, her daughter and 4 grandchildren, an aging uncle, and three dogs. She never knows what's going to happen next at her house. In her scant spare time she teaches yoga at a local community center.  Her employer is slowly replacing dining room staff with tablets that allow customers to electronically place their orders directly with the kitchen. When someone asks her what she does, her easy answer is that she works in a restaurant. Uninformative but true. The bigger truth is, however, that she is leading a significant, and not uncommon, discontinuous life.
Donald, 63, has been given an ultimatum by his employer: step up to being a manager or exit as part of the ongoing layoffs there.  He has always been proud of being a good worker. He has never been a manager and doesn't want to be one now.  A steady income stream is important because like so many other people, he and his partner are not even remotely financially ready for retirement at 65. Donald and Keith, also 63, have been a couple of years.  Together they make good money but if only one were employed they couldn't make it for long. They also know that they cannot save their way out of the retirement financial hole.  They are going to have to bring in more money, not less, in order to do that.   Their familiar, comfortable labels are going to have to be set aside as they come up with a discontinuous plan for their future.
Tom, 76, has flunked retirement twice. In both cases he left his work, intending to coast for a while.  Each time – after a couple of months – he went looking for something else. His first work evolved directly from his zoology undergrad degree.    After his second retirement, work involved buying a tire and brake service store, which he grew and sold.  After his second retirement, he decided to back to school to learn computer repair at which, to his joy, he excelled.  While he has no plans to retire again, he looks back at the discontinuous choices he has made and marvels at his ability to reinvent himself.  He never fit under one, simple label for long.
What are the primary labels you use to identify yourself?
How effective are they at conveying the real you?
What discontinuous changes are you experiencing in your sense of yourself, and your labels as you continue After 50?
Dr. Goddard was right about this: not one of these people has been able to live their lives well under the umbrella of a single dream.
4 responses to "God Pity The One Dream Man or Woman"