Nov 29
If You Are Going To Ask My Granddaughter A Question, Please Make It A Smart One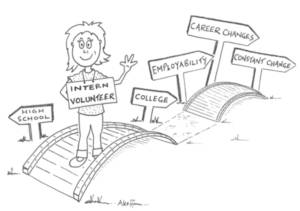 There was a time, actually not so long ago, when we made choices and they stayed made.  We chose among a menu of options and decided on  just one.  We chose an employer, spouse, educational path, profession, home and community. We decided what our primary assumptions, preferences and loyalties were.   Once our choices were made it took a business earthquake or a personal cataclysm of some sort to change things.  Today not only do decisions often refuse to stay made, but most of us think of change as one ingredient of life not requiring a direct nuclear hit to get us to reconsider.

In the process, one of the outstanding changes in precedent is that we are no longer required to choose one single thing and wear its name around like a sign hung from our necks. We can have a job AND freelance. We can operate from our car, office, and home all within an hour or two. We can hold opposing ideas at the same time and see the wisdom in both.  We can belong to more than one diverse group simultaneously.  I consider this to be a part of the new normal.   
As a long time Career Professional, I discourage my clients from building a plan or a search on a single piece of work (form and content) for the rest of their lives.   
As an Organizational Psychologist I regularly coach employers to understand that smart retention has become as important as smart hiring.     
As a Developmental Psychologist I observe people at 50 thinking they are already fully formed and that their future should and will be automatically an extension of their past.    
As a Grandfather, I recently observed as one of my friends asked my granddaughter what she wanted to be when she grew up.    She knew from my face that I would see the question as a Bozo (think clown) Question.   
Why was it a Bozo Question? Because it assumed: 
she will (and is expected to) choose one near permanent thing for the rest of her life
there is such an end state as grown up, a place at which she will finally arrive
by the time she gets "there" her intended outcomes will all be waiting for her, mostly unchanged and still quite stable.    
A much smarter questions would have been: "Of your various longer term interests and possibilities, which most appeal to you at the moment?"
The original question didn't allow for her development to be ongoing and intentional for the rest of her life.
When does a great 6-year-old start working on being a great 10-year-old?  Hint: Not at 9.  
When does a 38-year-old start working on being a great 50-year-old? Hint: Not at 49.   
When does a 74-year-old start working on being a great 80-year-old?  Hint: Not at 79.   
What forms is your own development taking at this point in your life?   What are your own intentions for your future, immediate and long term?
2 responses to "If You Are Going To Ask My Granddaughter A Question, Please Make It A Smart One"