Jun 8
The Wisdom of Dan Fogelberg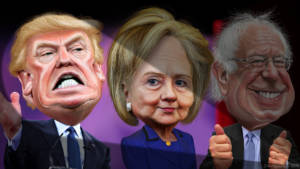 I never thought I would see the day when I felt compelled to walk by the television news with my hands over my eyes and ears.  My wife, Linda, is a political news aficionado.  She has a large need for me to sit down and watch the media's version of Secretary Clinton, Mr. Trump, Senator Sanders, and others parading their messages in front of me.  I have an equally large need for me to go to the far end of our house and read a book.  Our respective needs increasingly collide.  Her temporary tolerance for sloppy thinking, misuse of language/image, and for hearing promises that can't possibly be kept far exceeds my own.
We can't be the only ones in this situation.
Unwilling to become hopeless, I find I can only maintain a center of positive attitude by NOT immersing myself in the media's callow pursuit of the most unworthy parts of our attention and the most unsavory aspects of the candidates.  And it's our own fault that this is happening because we consistently fail to reach for the remote and hit OFF regularly.
Driving along in my car and listening to Pandora recently, the familiar voice of Dan Fogelberg grabbed my attention.
Love when you can
Cry when you have to
Be who you must, that's a part of the plan
Await your arrival
With simple survival
And one day we'll all understand
One day we'll all understand
One day we'll all understand
Dan Fogelberg – Part Of The Plan Lyrics | MetroLyrics 
There is absolutely NOTHING I can do to influence the current political situation of my country except wait to vote.  And vote wisely when the time comes.  Understanding is probably not possible.  Controlling is several degrees of impossible beyond that.
So I'm going to pin my hopes on Mr. Fogelberg's lyrics.
There is no question I am surviving, distraught though I may be.
There is also no question that I hope to understand some day.  I want it all to make some sort of sense that only the passage of time can provide.
What are you doing to get through this ugly period of little understanding and even less control?
I really need help here.
5 responses to "The Wisdom of Dan Fogelberg"