Apr 21
Punish The Men, Too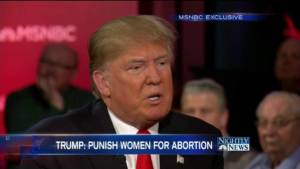 I usually stay away from politics in my blog, but Mr. Trump's recent comments on abortion have single-handedly pushed me over the edge.   "Punish the women," indeed.
To the best of my knowledge, there is only one case of immaculate conception on record. All of the other pregnant women in the history of the world have had a partner in conception. A man.
Why am I writing about this in a space usually reserved for After 50 issues?  I'm not having any more children, but my granddaughters are approaching the age of reproduction AND it's my issue because I vote and have at least some responsibility for creating their futures and the future of the society they will inhabit.
This isn't a pro- or anti-abortion column.  It's a column about responsibility.
Take a look at photos of protesters in front of Planned Parenthood clinics.  How many of them are men?  How many are holding signs that say, "We are equally responsible for unwanted pregnancies" or "Women don't get pregnant by themselves, you know" or "Men For sane, safe sex"?
I know we get caught up in the pro-life/pro-choice rhetoric–and the delicious, powerful current of righteous indignation on both sides.  Even so, this wouldn't bother me so much if the people posturing in this debate weren't mostly men.
What would happen if we passed a law that said every man who participated in creating an unwanted pregnancy had the choice of either a public flogging or castration?
That's an interesting way to frame the punishment conversation.
Mr. Trump, thank you for making the issue so very clear.
9 responses to "Punish The Men, Too"